Publisher:  Simon and Schuster Children's
Publication Date:   April 27, 2010 (Available for Purchase Now)
Audience:  Young Adult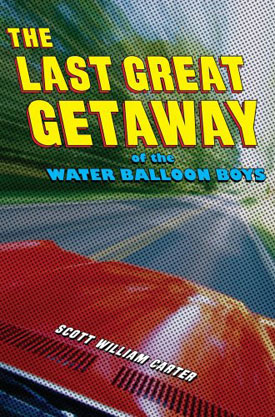 Life spins on a wheel.  The choices you make in the heat of the moment, during times of crisis, can forever alter the rest of your life.  In THE LAST GREAT GETAWAY OF THE WATER BALLOON BOYS, two teenagers make the choice to steal their principal's '67 Mustang and end up on a life-changing road trip.
The trip starts as a lark, to give Charlie Hill's absent father a portrait Charlie drew, but it evolves into much more — an edgy coming-of-age tale where shy, sixteen-year-old Charlie and his more experienced friend, Jake Tucker, deal with issues like suicide, sex, drugs, and the meaning of friendship . . . before a crisis a thousand miles from home forces Charlie to make the ultimate choice of his life.
– Winner, 2011 Oregon Book Award for Young Adult Literature
– Bank Street Best Children's Books of the Year, 2011
More Information About the Book
What Others Are Saying About the Book
"In his touching and impressive debut novel, Carter tells the story of two teenagers coping with the fallout of broken families…Jake and Charlie come across as believable characters with interesting stories to tell."–Publishers Weekly

"Well-developed characters and twists and turns along the way reveal the complexity of friendship, the redemptive power of second chances, the importance of looking past preconceived notions, and the lasting effects of choices (major and "insignificant" alike) and the responsibility one takes for them. This is a good choice for reluctant readers."–School Library Journal

"There is surprising nuance in the shades of gray behind the good-kid/bad-kid duality that has pigeonholed Charlie and Jake…readers [will] appreciate the laugh-out-loud moments and the insights into the teen-guy sensibility, its camaraderie, and its codes of honor."–The Bulletin of the Center for Children's Books

"Carter's coming of age story, reminiscent of Chris Crutcher's finest, is packed with action and true, raw emotion. I couldn't put it down! Carter presents a strong new voice in the world of young adult—and one this writer intends to follow." – Phaedra Weldon, author of Wraith

"Carter's debut novel kept me up all night.  His story of two teen-age boys and their stolen-car joyride to manhood, will resonate with everyone who has questioned the nature of friendship, the limits of loyalty, or the mystery of parents.  The stunning climax will stay with you, long after you turn the last page." – Christina F. York, author of Strategic Reserve

"The Last Great Getaway of the Water Balloon Boysbrims with wicked humor, edgy adventure, unexpected bravery, and hard choices that change lives forever. Scott Carter has written one of the best stories I've read all year. You must read this book!" – Leslie Claire Walker