Last week, my editor at Simon and Schuster emailed me the cover to my first novel, The Last Great Getaway of the Water Balloon Boys.  As of today, it's now showing up on Amazon.com and all the other usual places.  I'm very excited about it, because it has exactly the pulpy, adventure feel I was going for: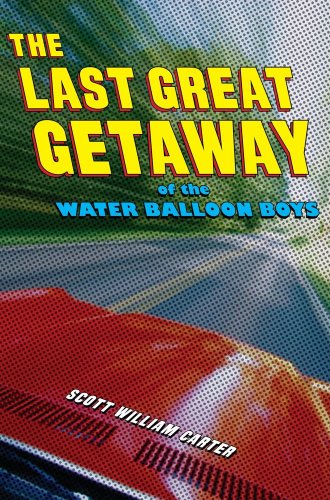 I love my name on the hood of the car.  A real nice touch.  I should also mention that the book, which is scheduled to be published April 27, 2010 in hardcover, is now available for preorder.  Amazon has even got it discounted down to $11.55.  Think of it, for just over ten bucks you can order a first edition hardcover to my first book.   If I wasn't me, I'd order it myself.
And as far as reading goes, this story of two teenagers who steal their principal's '67 Mustang and end up on a life-changing road trip should be a rip-roaring read.  Think of it as The Catcher in the Rye meets Thelma and Louise.  If you've ever been a teenage boy, or had a child who was a teenage boy, or known someone who was a teenage boy, or just flat out wanted to know what teenage boys think, hey, this is the book for you.  Don't delay.  I can't throw in any special gifts, but you'll have my eternal gratitude.