All I can manage right now.   More to come. Wow.
*****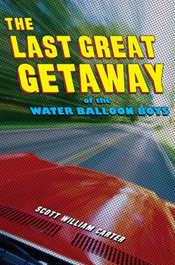 That's what I wrote sitting in the lobby at the Gerding Theater in Portland, Oregon last night, and that still pretty much sums up how I feel.  Wow.
My book, The Last Great Getaway of the Water Balloon Boys, won the Leslie Bradshaw Award for Young Adult Literature.  I was one of five finalists.  You can read a list of all the winners in all the categories over on the Oregonian's website.
I know it's a cliche to say it was an honor just to be a finalist, but it really was, especially considering the amazing books written by my fellow finalists.  I got to meet many of them last night and that was quite a treat.  I really was absolutely convinced I had no chance of winning — in fact, so convinced that I didn't write any kind of acceptance speech.  So maybe this is the secret strategy for winning awards.  It has obvious drawbacks, though, in that once you get up there in front of five hundred people you don't have an acceptance speech.  But I seemed to thank the right people, got a few laughs, and most importantly, kept it short, which I think everyone appreciated.
So the certificate gets hung on the wall, the unexpected cash prize gets deposited in the writing account, and then it's back to typing away in that office behind the garage.  What else is next?  I'm going to Disneyland!
No, seriously, I'm going to Disneyland.  It's been planned for months.  Can't wait to have my picture taken with Goofy.