I mentioned this book was coming in my last post (and I informed my mailing list a few days ago*), but I'm pleased to announce that The Ghost Who Said Goodbye is now available in both print and ebook.  A sharp-witted private investigator who has a hard time telling the living apart from the dead? Check. A serial killer with a paranormal twist that only our hero can stop? Check. Elvis as a hot dog vendor? Yep, it's all here. If you enjoyed Ghost Detective, I'm hoping you like this one, too.  More information about the book below.  (There are a few retailers, like iBooks, that will be available soon.)

*If you haven't signed up for my mailing list, you can do so here. There will be some contests coming up soon, some free giveaways for my fans, so it's worth a couple seconds of your time. And I only email a few times a year.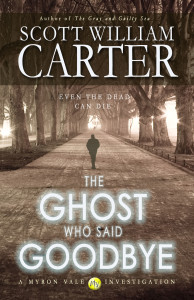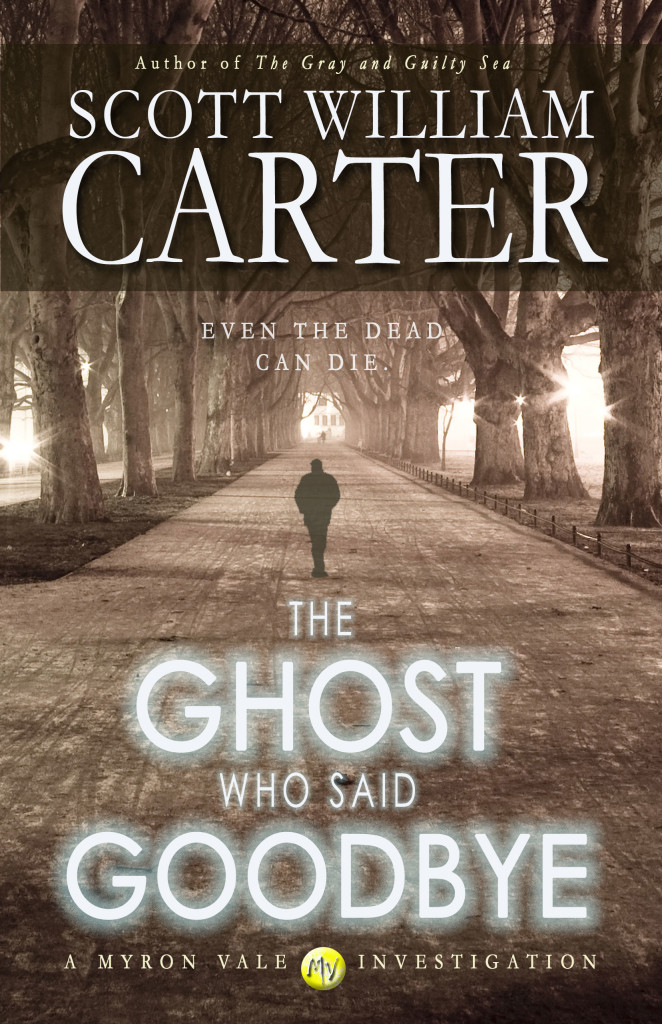 The Ghost Who Said Goodbye
A Myron Vale Investigation
Ebook:
Amazon | B&N | Kobo | iBooks
Paperback:
Amazon | B&N | Indiebound
Genre: Fiction | Mystery
Even the dead can die . . . the second in the riveting series about the private investigator who bridges both sides of the great divide.
Charles Manson. Ted Bundy. Jeffrey Dahmer. Known for their cunning and savagery. In the late eighties, another infamous serial killer sent seventeen innocent people to early graves. Then, suddenly, the murders in the panicked city of Portland, Oregon, stopped–and the Goodbye Killer got away.
Myron Vale remembers it well. Long before a fateful bullet cursed him with the ability to see ghosts, he was the young son of the city's most esteemed detective. The case changed Hank Vale, haunting him with a single glimpse of the killer's otherworldly face. He was never the same man again. Or the same father.
Now a new victim points to the Goodbye Killer's return. And when the most powerful forces on the other side of the great divide approach Myron desperate for help, he uncovers a terrifying truth. It's not just the living who should fear for their immortal souls … even the dead can die.
What They're Saying About the Series
"The Sixth Sense meets Spenser For Hire in Scott William Carter's magnificent Ghost Detective."– Michael J. Totten, author of Taken
"Scott is one of those rare writers who can and does cross genres, and do it well. You never know what kind of story you'll get from him, but you do know that it'll be good." – Kristine Kathryn Rusch, Hugo award-winning author of The Disappeared
"A sultry blonde walks into a detective's office. Big deal, seen it a million times, right? Wrong! THE GHOST DETECTIVE ranks as one of the most ingenious departures from the norm I've seen in a long time … I've always enjoyed Scott William Carter's work, but THE GHOST DETECTIVE takes my admiration to a whole new level. I loved this book. " – David H. Hendrickson, author of Cracking the Ice
"There is fantastic character development, snappy dialogue, and an interesting, intelligent plotline that kept me guessing up to the last page."  –  Cheryl Stout, Amazon Top 1000 Reviewer
"Ghost Detective has it all — suspense, humor, compelling characters, and a depth of emotion that kept me turning the pages into the wee hours of the morning." – Leslie Claire Walker, author of Skin and Bone
"It's very rare that find a novel that's funny and sarcastic and poignant and scary, all at the same time. In GHOST DETECTIVE, Scott William Carter pulls all four off with amazing aplomb … A gripping, wonderful read – and I definitely look forward to the next Myron Vale novel. Highly recommended." –  Kathryn Cunningham, Amazon Top 500 Reviewer
"Don't let the title trick you into false assumptions; Ghost Detective is an outstanding book, one that uses its paranormal premise not as a way into scares or even romance, but instead uses it to explore ideas about loss, death, and our pasts. It's really well-crafted stuff, and I'm excited to see that Carter plans more books in this series; after this one, I'm eager to see what comes next for Myron."  –  Josh Mauthe,  The Library Police Podcast
"Scott William Carter takes aim at smooth genre blend and scores a bulls-eye … Fantastic read." – Nathan E. Meyer, author Aldwyn's Academy