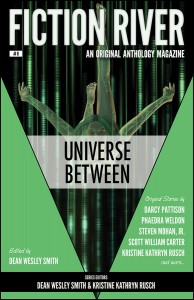 A quick summer update while I have a few minutes. My story, "Perfect Notes," was just published in the Fiction River anthology, Universe Between.  I really enjoyed writing this one.  A number of years ago, a particular image of a piano player seeing his dead father at the back of a recital hall came to me, but I never quite had the story to go with it.  When the invite to this anthology came long, the story clicked into place.  I'm also in fine company in this book, so I hope you check it out.  It's available both in ebook and print.  You should also consider subscribing to the series.  Lots and lots of great stories in this one.
I haven't done a regular update in quite a while, and since I have a lot of new readers (the reasons for which I'll explain in a minute), I thought I'd give everyone a general update.  As of last week, I'm halfway through my Master's degree in Library and Information Science.  Since my job at Western Oregon University was transferred to the library, I've really enjoyed the direction my position has taken, so I decided to even more fully commit to this path.  While I don't blame any writer for wanting to pursue writing full time, I really enjoy both of my careers, and libraries, particularly academic libraries, are evolving in a direction that perfectly aligns with all of my interests.  I like the balance, too.  Juggling writing, an intensive grad school track, the job at the university, and family life has been a bit challenging, but it's also made me realize how much more productive I was capable of being even when I thought I was already productive.  That's a lesson I plan to apply going forward.
Kids have two weeks before they're back in school.  While we didn't go on any big trips this summer (we did that back in March when we took them to Orlando), we've kept their schedules pretty packed with camps, swimming, trips to the beach, and other assorted fun.  It's been a good stretch.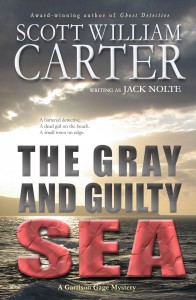 As for why I suddenly have a lot of new readers, that mostly has to do with the ebook of The Gray and Guilty Sea going on sale for FREE a few weeks ago on all major platforms (see this post for more info and links).  In that time, more than 140,000 people have downloaded it, by far exceeding my expectations. Hundreds of reviews have come in, my mailing list practically doubled overnight, and I've gotten some very nice fan emails. More importantly, sales of the next two books have exploded. The plan was to make this promotion last a month, hoping to hook people on the curmudgeonly Garrison Gage, but it's worked so well that I'm extending it for the time being.  Hey, why mess with success?  (Unless it's to try to make it better, of course.  I did improve the cover and put the book through another round of copy editing.)  Right now I just need to get myself to write faster . . .
Speaking of that, the current work in progress is the sequel to Ghost Detective.  Yes, there are definitely more Garrison Gage books planned (the guy feels like family to me now), but you may have to wait until next year (although I certainly hope you try Myron Vale on for size).   Oh, and the audio book of The Lovely Wicked Rain, the third in the Garrison Gage series, is now in the works.  It will eventually be available at Audible.com and iTunes.  I'll post on the blog when it's out.
If you want an email so you don't miss a new release, please sign up for my mailing list.  I'm currently offering a free download of my short story collection, The Man Who Made No Mistakes, as an extra incentive.