Don't look now, but I have another story out:  "The Toy That Ran Away" has appeared in Moonscapes, volume six of the Fiction River anthology series.  It features an intrepid interstellar private detective named Dexter Duff, who's also appeared several times in other magazines.  When Dexter is asked to retrieve a child's sophisticated robotic toy from a ravaged moon, he uncovers a disturbing secret.  Think The Fifth Element meets Spenser for Hire and you'll have the right feel of these stories.  Judging by the lineup of other authors, there should be some fantastic tales in this one.  Here's the full description of the anthology: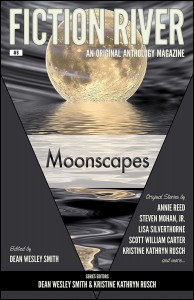 We all look up at the moon and wonder. And maybe dream. For centuries, the moon filled our imaginations. Eleven professional writers took those dreams and set original stories on moons scattered all over the galaxy. Yet, as the dreams of centuries, every story holds a human touch. From a mythical man fulfilling a childhood wish to a fantastic addition to Kristine Kathryn Rusch's bestselling Retrieval Artist series, this volume of Fiction River allows you to travel to eleven different moons without leaving the comfort of home.
Fiction River is an original fiction anthology series. Modeled on successful anthology series of the past, from Orbit to Universe to Pulphouse: The Hardback Magazine, the goal of Fiction River is to provide a forum for "original ground-breaking fiction of all genres."
Or for other ways to purchase, including a subscription to the ongoing series, check out FictionRiver.com.