Jan 06 2014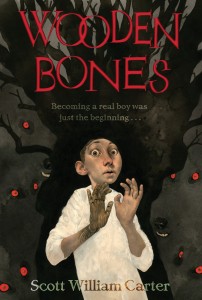 Good news!  My book, Wooden Bones, is a finalist for the Oregon Book Award in the Children's Book category.  It's a pretty broad category, from picture books to middle grade novels.  My book is a short novel aimed at 9-12 year-olds, though I really wrote it for all ages.  Who doesn't want to know what happens to Pinocchio after he became a real boy?  The winners in each category will be announced on March 17 at a ceremony in Portland.  I won an Oregon Book Award in 2011 for The Last Great Getaway of the Water Balloon Boys and it was a terrific honor.  And whether I win this time or not, I appreciate the nod more than anything else.
So much of my life as a writer is spent in isolation, hunched over a keyboard in the wee hours of a morning, and it's nice when every now and then you get a little external confirmation that all those hours of work haven't been for naught.
Want to chat about this post? Join me on Facebook or Twitter.