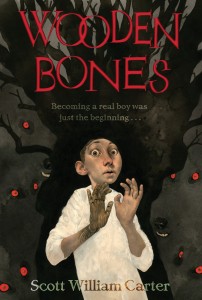 First, the big news:  Wooden Bones, my dark children's fantasy that chronicles the untold story of Pinocchio, is now available in both hardcover and ebook from Simon and Schuster.  What happened to Pino, as he came to be known, after he became a real boy?  The answer:  It turns out he can bring puppets to life himself, which gets him into a whole lot of trouble.  Giant hungry wolves?  Dead trees brought to life?  Life-size puppets that march about like zombies?  The book's got all of that and more.  I hope you check it out.  It's aimed at the 9-12 age group, but I think adults might like it as well.
It's been a busy couple of months.  In late July, I co-taught the Think Like a Publisher Workshop with Dean Wesley Smith, where we helped another room full of professional writers learn how to take advantage of all the ways writers can now go direct to readers — even while continuing to work with large traditional publishers, as I am.  It was a great group and always fun to hang out with Dean and all my other writer friends on the Oregon coast.  Hard to believe, but I've known Dean over twenty years, ever since I walked into his writing workshop in Eugene, Oregon when I was a nineteen-year-old college student and realized, right away, what a goldmine that workshop was for a newer writer like me.
The first half of August, my wife and I took off for Europe, embarking on a five country, ten plus city Mediterranean cruise, tacking a few days on at the beginning and the end.  In all, we were gone 17 days, and it was quite a trip — Barcelona, Athens, Rome, Venice, Istanbul, I'm still mentally unpacking everything we did on the trip.  It was expensive, no doubt about it, but we have no regrets; it was something we'd been wanting to do for a long time.  And no, we didn't take the kids.  They stayed with the grandparents (we took them to Disneyland last year, which was the family trip), and had a much better time  than if they'd been with us.  Somehow I don't think they would have appreciated the Sagrada Familia in Barcelona or the Parthenon in Athens quite as much as we did.
Other news?  Well, I'm buckling down into the writing, working on a dark paranormal suspense novel based loosely on one of my short stories.   More than that I won't say until it's finished, but the writing is going well.  I also have a number of new audio books out.  None of them are narrated by me (when I have more time, it's something I plan to do, but not now), but they're all excellent reads.  All of them are available for digital download at Audible.com and Amazon, and should be available at iTunes shortly.
With the summer winding down toward fall — I was stunned to realize that the kids go back to school in two weeks — I'm hoping to have a nice, productive stretch of writing for the rest of the year.  Traveling is great, but I truly am a creature of habit, and it feels good to get back in a creative groove.
What I've Been Reading Lately:
The Hunger Games Trilogy, by Suzanne Collins.  Fantastic read, and fully deserving of all the attention it's gotten.  Felt a little like Ender's Game meets The Princess Diaries, in the sense that it's very much told in the voice of a teenage girl (complete with a makeover!)   but the action and war-heavy themes are there in abundance at the same time.  I'd say the third book was the weakest of the three, but it was also the most ambitious in scope.
Now and Then by Robert B. Parker.  Another great book in the Spenser series, touching on infidelity, the meaning of marriage, and what makes two people stick it out through thick and thin.  Not his best book, but then it's Robert B. Parker, and even a run of the mill Parker is superb.