Exciting news!  I'm pleased to announce the publication my latest short story collection, The Man Who Made No Mistakes, available as both a trade paperback and an ebook.  Although I sometimes release ebook-only mini collections, this is what I consider my third major collection.  (The Dinosaur Diaries and A Web of Black Widows being the first two.)  It contains stories published in Analog, Realms of Fantasy, and other magazines, as well as a few original tales.  It also bears a striking cover by Billy Norby.  I'm very happy with the book and hope you enjoy it, too.  A little more information is below.
---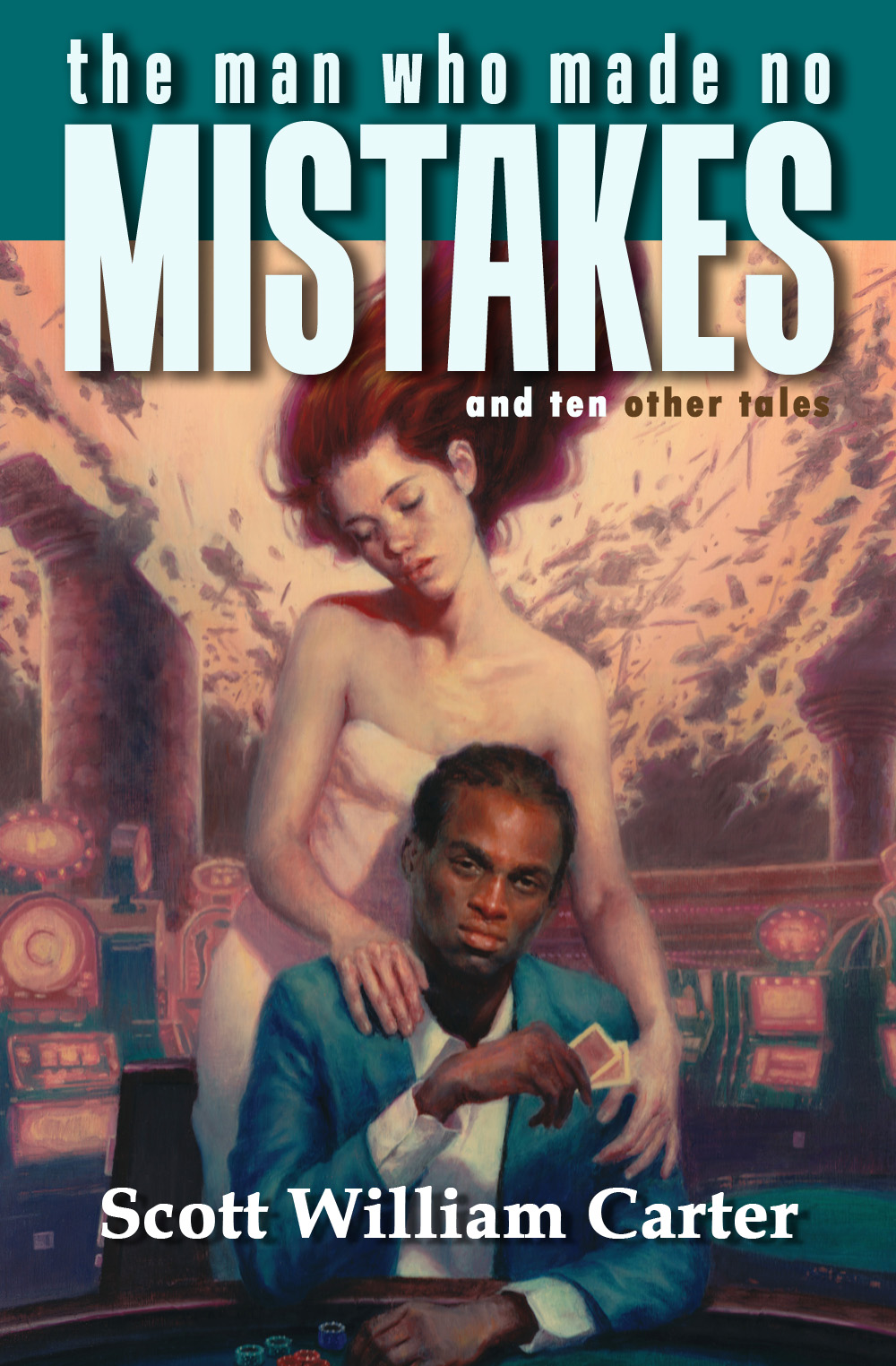 What if you had the power to rewind time?
Make a scene in a restaurant, give your boss the finger, rob a bank just to see how it feels — you could satisfy any whim, fulfill any desire, make any wish you'd ever had come true. The man who wanders into Father Holder's Las Vegas confessional says he has just such a power. The ultimate in wish fulfillment, he calls it. And if something goes wrong? No problem. He just rewinds. He's the man who never makes mistakes.
Until, in a moment of weakness, he succumbs to the darkest impulse he's ever had — and can't find a way to undo it.
This remarkable tale leads off Scott William Carter's latest short story collection. A dragon addicted to eating humans, a robot on a devastated planet with a spellbinding story to tell, Abraham Lincoln in a world of one-eyed dragons and drafty castles — hopping across time and space, genre and style, Carter offers up eleven provocative tales that are sure to please his growing number of fans as well as win him new ones.
Ebook:
Amazon | B&N | Smashwords
Praise for the stories:

"The Man Who Made No Mistakes is by far the most ambitious and morally complex story in this issue and arguably in any issue of the magazine since its last resurrection . . . It's one of the strongest stories I've read in months, and I expect to see it on the awards ballots."–Adventures Fantastic
"Beautiful and haunting." —SFRevu
"A touching story about loss, and what it means to have someone with whom you want to experience life . . . Riveting." —Tangent Online
"Carter shares the story of Karvo Portano, a biological-robot hybrid grizzly bear who sings opera. Well at least he used to, until someone pilfered his voice module . . . The story dazzled me. It is a witty, zany trip across the universe with a nice twist at the end and even a message of hope."–Reading with Mo
"Carter weaves a successful tribute to old-school detective stories with the modern twist of exposing man's foibles."–Tangent Online
"I really enjoyed the spin on the classic android becomes a human motif, and this story is a great example of putting a fresh view on old ideas . . . Overall, the witty dialogue was one of the greatest strengths of the story . . . The plot was well stitched together, admirably so. I enjoyed the twists and turns of Duff's journey, and its profound alieness transported me to this other world . . . a pulpish romp through space. —Nicky Drayden, Diary of a Short Woman