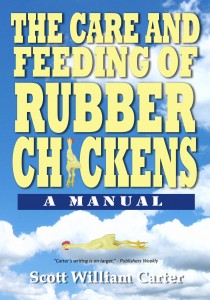 Here's an attempt at a little out-of-the-box marketing for my book, The Care and Feeding of Rubber Chickens:  A Novel.  In the book, Trevor Livingston's father owns a rubber chicken factory in Las Vegas (as you can see, it's a very serious book, right up there with War and Peace) and he wants Trevor's help writing what he sees as the perfect gag gift — a how-to manual on rubber chickens as pets.  If you buy the print edition of the novel, you'll see excerpts from the manual at the beginning of each chapter.  For the ebook, however, I've done something a little different.  I've made the manual available for free (and included the first chapter of the novel at the end of the manual, hoping to entice you to buy it).
You can download the manual for free at Amazon.com, BN.com, or Smashwords.com.  Check it out!  It's very short, just excerpts, really, but I hope you get a laugh or two out of it.  For those of you without e-readers, Smashwords will let you download the ebook in many different formats — including PDF or HTML, so you can read it on your computer.
* * * * *
In other news . . .
For those of you who are fans of audio books, Flying Raven Press has now published the audio version of A Tale of Two Giants, which you can download from Audible.com or Amazon.com.   And of course it's available in print and ebook as well.   It's read by the very talented Alexander Edward Trefethen.  FRP has another half dozen audio books in various stages of production, so stay tuned for more news on this front.
I'm putting the finishing touches on my next major short story collection, The Man Who Made No Mistakes. While I do release individual stories and mini collections in ebook-only format from time to time, this is a definitive collection of what I consider my best stories.  It's got a handsome cover by Billy Norrby.  It'll be published in ebook and paperback next month — and audio as well, though it may be down the road a bit.  I'd actually like to narrate this one myself, but I don't have time at the moment.  Audio production, especially if you're doing all the back end work yourself, is very time consuming.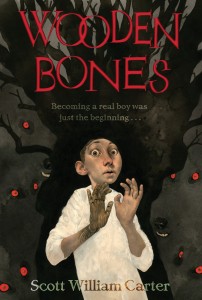 In some exciting news, my next book from Simon and Schuster, Wooden Bones, the untold story of Pinnocchio, got a nice boost from the Junior Library Guild, which made it a spring 2012 selection.  While this doesn't ensure the book will become  a bestseller, it is a major book order which will put the book in thousands of libraries across the country, and because JLG is very selective about the books they buy for their members, it does bode well for the book's future.  Now all I need is Tim Burton to call and want to turn the book into a movie . . .
The hardcover and the ebook of Wooden Bones, which is due to be published August 7, are already available for pre-order.
On the teaching front — with the day job and the family thrown into the mix, I don't have a lot of time to teach, but I sure do love paying it forward to other writers when I get a chance — I'll be co-teaching the Think Like a Publisher workshop again with Dean Wesley Smith July 19-22 in Lincoln City, Oregon.  If you want to know how to run your own publishing company, publishing ebooks, print, audio, and other formats while keeping your costs down and maximizing your profits, this is the workshop for you.  It's taught at the beautiful WMG Publishing office, which is a treat all by itself.  We've taught this workshop four or five times now, I forget how many, and each time we've had 25-30 writers from all over the world attend.  I'm not joking when I say that, either.  Not even a majority of the people who attend these workshops are from Oregon.  Contact Dean if you're interested.  It's a lot of fun and you'll learn a ton.
The summer is going to be busy.  What else is new, eh?  Camping trips, a cruise to the Mediterranean with my wife, shuttling the kids to various camps and activities, hikes, working in the yard, bike rides, and of course lots of new words to write — I'm really looking forward to it.
What I've Been Reading Lately:
What I've Been Watching Lately:
The Walking Dead and Downton Abbey. These two series, one about a zombie apocalypse and the other about a rich British family and their servants during the first world war, share almost nothing in common except for their rich characters and fantastic writing in general.