For those of you who prefer reading books the old fashioned way, The Care and Feeding of Rubber Chickens: A Novel is now available in trade paperback.  The printed book also includes something the ebook doesn't — excerpts from The Care and Feeding of Rubber Chickens:  A Manual. Here's a shot of the cover flat (click it for a larger image):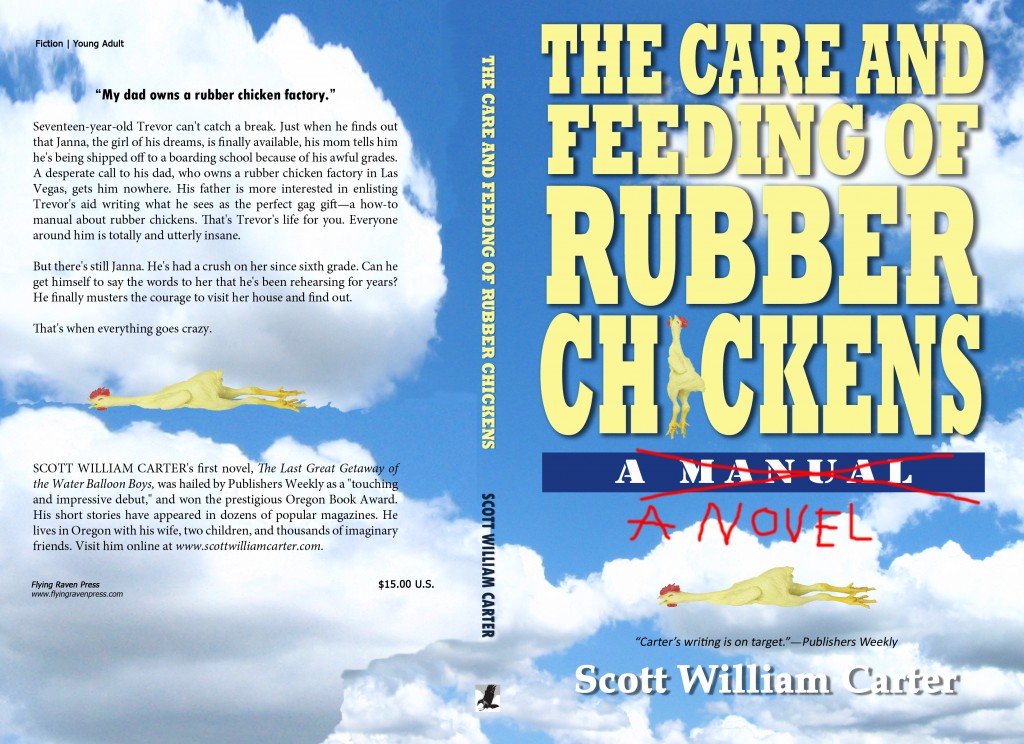 It's a handsome book and I'm quite proud of it.  Right now you can only buy it from Amazon.com, but it should be available at other online retailers in the next few weeks.  The ebook is already available everywhere.
Writing has been going well lately, though making sure I spend my time on the most productive things has been increasingly challenging.  Since I both work with traditional publishers (like Simon and Schuster, who will be publishing Wooden Bones in a couple of months), and help run Flying Raven Press, I'm busier than ever.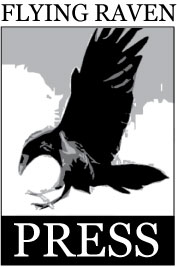 Battling a bit of a cold doesn't help, but that comes with the territory of having two kids in school.  Teaching the "Indie Publishing" workshop a couple weeks ago was a lot of fun.  Not only did I get to hang out with old friends and meet new ones, I also got to pay it forward a bit.  (Since I really can't pay back all the people who have helped me over the years with my writing, the best thing I can do is help other writers any way I can.)  The modern publishing world is dramatically different than it was even three years ago, and the skill set that a writer needs to survive and thrive in the coming years is also different.  Writing blurbs, cover design, understanding how to promote and how not to — these are vital skills.   At one point, I summed up everything we talked about all weekend by saying that there were three primary ways you could sell better and make more money as a writer working today:
Produce more products.
Produce better products.
Sell in more places.

That's it.  That's the key.  It means being prolific (I have little doubt that the prolific writers of today will be the ones doing the best in five or ten years) but also mastering the storyteller's art.  It means not only writing better books, but learning how to craft catchy blurbs and design snazzy book covers — if you decide to combine traditional publishing with indie publishing, which is exactly what the smart writers are doing now.  (Self-publishing, though it got something of a dirty reputation recently, has always been the most common way for writers to reach their audience.  Charles Dickens, Ben Franklin, Edgar Rice Burroughs, the list goes on and on. )  It means making sure your books are available in as many places as possible and in as many formats as possible — paperback, ebook, audio, etc. It also means — and this is probably the hardest part — making sure you're spending your time wisely.  This is one of the reasons I've given up all social media, why I attend few writing workshops or conferences, and why I seldom blog.  Usually these things don't pass what I've taken to calling the W.I.B.B.O.W. test, an ugly acronym which is short for Would I Be Better Off Writing?  And for me, writing means fiction writing, since that's the guiding passion of my life.
I have nothing against writers who enjoy conferences, Facebook, blogging, or Twitter.  It's just, for me, I mostly prefer to spend that time writing fiction.  It's nice that I now live in a publishing era where the smartest business decision for a fiction writer, at least in my opinion, is to do exactly that.  We'll see if time proves me right.