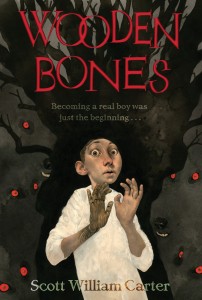 This is neat, and worth checking out: Edward Kinsella, the illustrator behind the cover of my book, WOODEN BONES, posted a behind-the-scene glimpse of how he came up with the design. He also had some kind words to say about the book — thanks Edward!  I can happily say I feel the same about his illustration, which really captured the spirit of the book. 
We're still six months from publication, but there's already a bit of buzz brewing about it, so we're all hopeful it sells well.  In fact, some of the early sales news has been so encouraging that I've already started sketching out a sequel.  Now I just need Tim Burton to call and say he'd like to turn it into a movie and life will be about perfect.
The hardcover is already available for pre-order from Amazon, Barnes and Noble, and Powells. Pre-order it today to make sure you get a first edition.   At just over $10, it's quite a bargain.
More about the book can be found on this page.
Also, remember that I have a website dedicated to just my books for younger readers at www.rymadoon.com.  Since I write books that aren't appropriate for kids, too, I'm trying to make it easier for people to know which ones are targeted at a younger audience.