Yep, that's the title, and it's certainly one of my crazier ones.  If memory serves, I made a joke years ago saying that was going to be the name of my next book — and then realized that, actually, I kind of liked it if I could find the right book to go with it.  So I jotted it down and forgot about it until I thought of this first line:  "My dad owns a rubber chicken factory."
With that, I was off and running, and the result is a strange combination of wacky and poignant as I tell the story of Trevor Livingston and his thousand-mile quest to tell the girl of his dreams how he really feels about her.  And of course, nothing goes quite as expected.  More about the book below.  (It's available as an ebook now, with the paperback to follow in a few months.)
If you liked The Last Great Getaway of the Water Balloon Boys or President Jock, Vice President Geek, you'll probably like this one.  It has a very similar tone and feel.  It's aimed at young adults in the 16-18 range, but I think adult readers might like it even more.
And this is also completes, at least for the short term, what I consider my contemporary YA trilogy.  By contemporary, I mean there's no fantasy, aliens, or any of that crazy stuff that happens in a lot of my fiction — just modern day teens struggling with modern day issues.  I happen to have a pretty broad taste when it comes to both reading and writing, but for now at least, I've said what I want to say on this front and I'm turning my attention to other books for a while. 
What will those books be?  Ah, to answer that question would be to spoil the fun, wouldn't it?  And of course I don't always know myself.  Sometimes all I have to go on is a strange title . . .
---
The Care and Feeding of Rubber Chickens:  A Novel
by Scott William Carter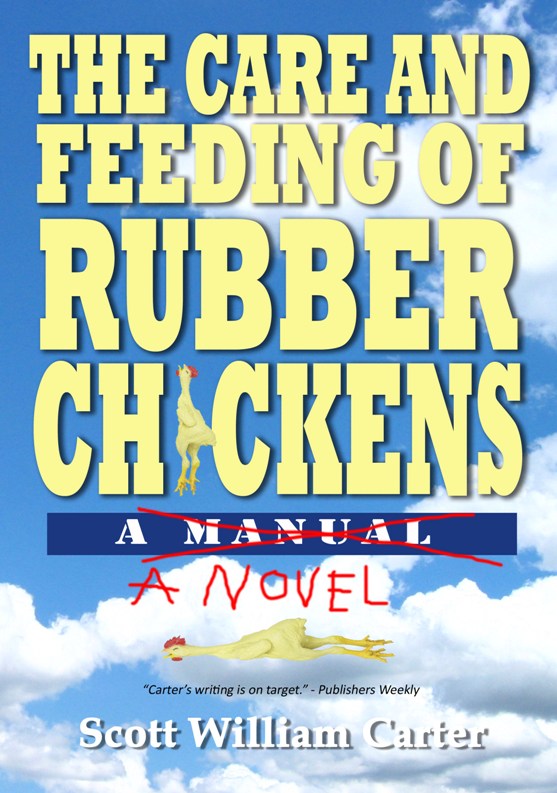 Seventeen-year-old Trevor can't catch a break. Just when he finds out that Janna, the girl of his dreams, is finally available, his mom tells him he's being shipped off to a boarding school because of his awful grades. A desperate call to his dad, who owns a rubber chicken factory in Las Vegas, gets him nowhere. His father is more interested in enlisting Trevor's aid writing what he sees as the perfect gag gift – a how-to manual about rubber chickens. That's Trevor's life for you. Everyone around him is totally and utterly insane.
But there's still Janna. He's had a crush on her since sixth grade. Can he get himself to say the words to her that he's been rehearsing for years? He finally musters the courage to visit her house and find out.
That's when everything goes crazy.
*****
Grade 10 Up – "My dad owns a rubber chicken factory." With this zany first line, readers are launched on a surprisingly poignant coming-of-age journey. Part buddy story, part road trip adventure, and part ruminations on the difference between love and infatuation, Carter offers up a vivid portrait of a young man – Trevor Livingston – who blunders into a thousand-mile quest to tell the girl of his dreams how he really feels about her. Although the book is appropriate for more mature young adult readers, adults may find even greater enjoyment in Trevor's distinctive voice and abundant references to popular culture – Star Trek and The Princess Bride, for example, are favorite targets. Fans of Carter's award-winning first novel, The Last Great Getaway of the Water Balloon Boys, are certain to find this heartfelt look at the angst and insanity of modern adolescence an equally riveting read.
Electronic Edition:
Amazon | B&N | Smashwords   
Paperback Edition:
Coming soon.