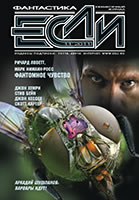 My science fiction story with a rather long title, "The Android Who Became a Human Who Became an Android," has been reprinted in the Russian magazine, Esli, which roughly translates as "If" in English.  It was originally published in Analog in September 2010.
I got my contributor copy in the mail over the weekend, mailed all the way from Moscow, and it's a sweet looking magazine.   First time I've been printed in Russian, as far as I know.  Only problem?  I can't read a word of it.  They even translated my name!  The only way I was able to tell which story was mine was the copyright notice at the end of the story, which was in English.  Another weird moment in being a writer.
By the way, you can now buy this story individually to read in electronic format at Amazon, B&N, or, at Smashwords.com.  It's a longish tale, nearly short novel length, so it's a good deal for only 99 cents.  Here's the blurb and the cover:
~ | ~
The Android Who Became a Human Who Became an Android
by Scott William Carter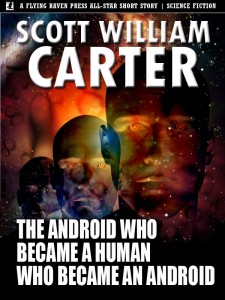 It ain't easy being a private investigator in a galaxy that spans thousand of worlds – especially when you make the mistake of putting your heart on the line. When an old flame of Dexter Duff's shows up out of the blue, claiming her rich husband is missing, Duff has mixed feelings about getting involved. She's willing to pay top dollar, though, and like usual, Duff is broke. The case turns even stranger when it turns out her husband, who was once an android, became a human for her sake through a costly and risky procedure – and then went back to being an android when she seemed happier with him the way he was before. Then he vanished without a trace.
Readers of this story may want to check out "The Bear Who Sang Opera," another story featuring Dexter Duff, as well as other stories set in Carter's Unity Worlds universe.
Available Now in Electronic Format:  Amazon | B&N | Smashwords