It's a little early for Halloween, but if you're in the mood for a ghost story I've got a collection that might be up your alley.  Flying Raven Press has just released a collection of five stories by me — four all-new tales and one reprint — that's available in all the major electronic formats.  The blurb from the sites, as well as links where you can purchase it, are below.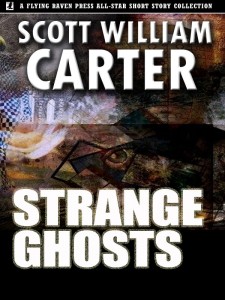 Equal parts riveting and stirring, Carter takes a staple of campfires and rainy nights – the ghost story – into surprising new territory in this collection. No gore or gratuitous splatter here – these tales are meant to raise the hairs on the back of the neck and leave the reader feeling quietly discomfited hours after reading.
On a dark night in the Virginia woods, a boy encounters a former slave protecting the Confederate sword of Robert E. Lee in the spellbinding "The Sword of Surrender." In "All My Invisible Friends," a grieving child psychologist who's lost his way finds meaning again with an assist from an invisible friend. An old amusement park called "The Enchanted Grove" helps the parents of children who died tragically find closure – but maybe not for everyone. In "The Easel," a man on an evening walk buys an old drawing easel at a garage sale and soon discovers it has a secret power. And finally, a recently divorced reporter randomly picks a town to start over with his life and happens upon a "Stone Creek Station" in the woods where no train has a right to be.
Moody. Atmospheric. Provocative. These five tales have all the makings of good ghost stories with a touch of strange thrown in for good measure.
Available Now:  Amazon | B&N | iTunes |  Smashwords