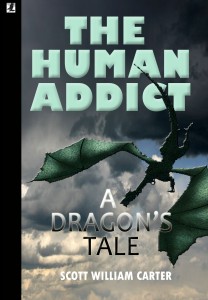 Dragons didn't need to eat but once every full moon, so gluttony was considered the worst of their crimes. The fascinating tale of one dragon's struggle with a rather unusual addiction . . . [Download here.]
In an effort to help get the word out about my new fantasy for younger readers, Drawing a Dark Way, I've made my short story "The Human Addict" available for free.  If you want to buy it directly from Amazon or B&N, for your Kindle or Nook, you can do so, but it will cost you 99 cents.  If you want it for free, head over to Smashwords.com; you'll have to create an account, but that won't cost you anything.  Included at the end of the story are the first couple chapters of Drawing a Dark Way.
You don't need an e-reader, either — you can read it in PDF format on your computer.