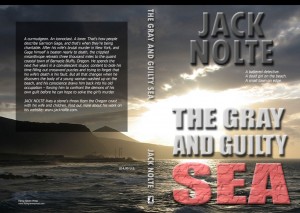 I'm  pleased to announce the release of The Gray and Guilty Sea under my mystery and suspense pen name, Jack Nolte.  You can read more about the book on Jack Nolte's website. Hope you check it out.  The e-book has been available for several months and has been selling extremely well, with lots of nice reader reviews showing up lately.  The trade paperback is a handsome book and I'm quite proud of it.  The cover flat is pictured above.
Here's the book's blurb:
A curmudgeon. An iconoclast. A loner. That's how people describe Garrison Gage, and that's when they're being charitable.
After his wife's brutal murder in New York, and Gage himself is beaten nearly to death, the crippled private investigator retreats three thousand miles to the quaint coastal town of Barnacle Bluffs, Oregon. He spends the next five years in a convalescent stupor, content to bide his time filling out crossword puzzles and trying to forget that his wife's death is his fault. But all that changes when he discovers the body of a young woman washed up on the beach, and his conscience draws him back into his old occupation – forcing him to confront the demons of his own guilt before he can hope to solve the girl's murder.