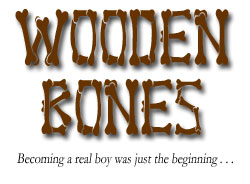 I mentioned the other day that I thought I would do a little more "behind the scenes" posts about my second book, WOODEN BONES.  I still don't have a publication date — sorry, folks, that's big publishing for you, it moves at the speed of stalagmites — but I went ahead and created a page for the book, where I'll collect the various links and items of interest as the novel makes its way toward the bookshelves.
First up, my book has been listed at PublishersMarketplace.com:
THE LAST GREAT GETAWAY OF THE WATER BALLOON BOYS author Scott William Carter's WOODEN BONES, again to David Gale at Simon & Schuster Children's, by John Silbersack at Trident Media Group.
For those of you who aren't familiar with what folks in the biz refer to simply as PM, it's a clearinghouse of information as it relates to the publishing business.  For $20 a month, you can subscribe and get access to a lot of the same information that writers, editors, agents, and other industry professionals use to keep up on what's happening in the book business.  The price may seem a little steep, but you can join for a month at a time every four or five months, which is what I do.
My listing is in the deals section, which is where agents, editors, and others tout their latest publishing deals.  For a writer, it's probably the best feature of PM, because it gives you a good sampling of what's being bought in the marketplace.  Only a fraction of the deals are listed, of course, but it's still a great resource and well worth checking out if you're a serious writer.