Back in February, the fine folks at PS Publishing released my collection, A Web of Black Widows, which contains six tales all centered around love and loss.  While the print edition is still available as both a signed jacketed hardcover and a hardcover without a jacket,* I'm pleased to announce that Flying Raven Press has just published the electronic edition.  It also bears a different cover: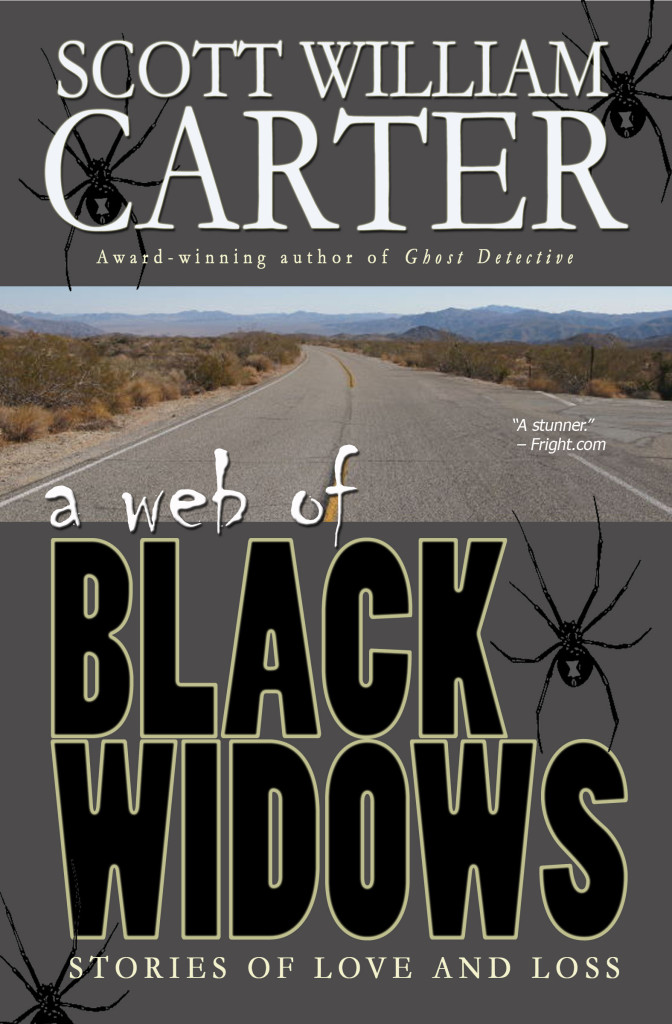 It's available right now for the Kindle on Amazon.com and also in various other formats via Smashwords.com.  In the next month or so, it should also show up on the Barnes and Noble site, the Soney e-reader bookstore, and the iBookstore, but if you can't wait you can get it in those e-reader formats right now over at Smashwords.com.
Here's the blurb that's appearing on various sites:
In these six provocative tales, Scott William Carter takes the reader on a journey to places where love and loss intersect: a grieving tattoo artist makes a cross-country trip with a pregnant woman on the run from her disturbed husband . . . a mysterious artist finds a woman washed up on the beach and feels compelled to paint her . . . a young man who made a disastrous choice in wife is forced to crash weddings with his ghostly bride so she can remain on Earth . . .
Reading these and three other stories, you will be intrigued, moved, and troubled as Carter's clear and engaging prose takes you on a guided tour of the darker corners of the human psyche. But as he writes in his introduction, "There's hope in there, too. There has to be. Otherwise, why write at all?"
"Scott William Carter makes it look easy. But if anyone thinks that writing good, intriguing fiction with a clear, plain voice is easy . . . Well, they should try it sometime." — Chizine.com
"While it may be small in size, A WEB OF BLACK WIDOWS is as powerful a package as dynamite." – Gnostalgia
"The title story is a stunner." – Fright.com
*Copies of the signed hardcovers were limited to 500 copies, and they're running out, so if you want to own one of these fine books as a collector's edition, I encourage you to buy one soon.