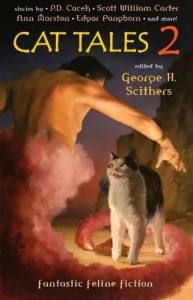 Some stories take longer to get into print than others. I sold "The Problem with Polly" to Award-winning editor George Scithers — who sadly recently passed away — for his Cat Tales series three years ago.
It's now made its way into print, in the book Cat Tales II: Fantastic Feline Fiction, which you can buy from Amazon and other places. The story is about a man who has a problem with a cat named Polly.  Actually, more than one cat . . . Well, you'll have to read the story to know what I mean.
And hey, my name even made the cover.  Neat, huh?