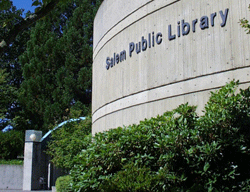 With two collections of my short stories published in the last few months, and my first novel due out from Simon and Schuster in a couple weeks, this has been a big year for my writing.  The Salem Public Library has been gracious enough to set up a book signing and reading on Thursday, May 6 at 7 p.m. in their Loucks Auditorium. If you're anywhere in the vicinity of Salem, Oregon, I'd love to have you celebrate with me.  A local university bookstore will have books on hand for purchase.  I'm considering this my official "book launch" event.
I'll do a brief reading from my collection The Dinosaur Diaries and Other Tales Across Space and Time, a few pages from my book, The Last Great Getaway of the Water Balloon Boys, as well as talk just a little and answer any questions.  It should be great fun!  It's certainly something I don't plan to do all the time, but after all the hard work over the years, well, it'll be nice to  take a breather and celebrate — and especially nice to do this in my hometown, where lots of friends, family, and other supporters of my writing can join me.
Here's more details from the library's website and newsletter (PDF).   The event is free and open to the public.
If you can't join me, but you'd still like to purchase my books, you can buy my first novel (a hardcover first edition, no less!) and my collection from Amazon.  Here's the links:
And please spread the word!  In today's publishing world, it's more important than ever that an author hit the ground running.  Every sale really does help.  Buy a book for yourself.  Buy one for a friend.  Buy extras in case you lose the originals . . .
Cheers,
Scott